Soz for the lack of posting the last few days. 3G became pretty much non-existent after we left Eden and try as I might, I couldn't get anything to upload to the blog.
So for Benzy and I, the ride is over. Because we're back in Melbourne motherfuckers! At about 7pm on Saturday evening, triumphant but totally exhausted, we reached the Fox Hotel in Fitzroy.
I can't be bothered writing too much but I'll briefly wrap-up the final three days.
Thursday we had the Eden to Orbost leg. Neither of us slept well the night before because all we heard was how hard it was going to be. We heard right. 194.24kms of forest and large hills known as mountains. The sign below located about 10km out of Eden was a haunting start. 100km later we reached Cann River for the best pie I've ever had. Three more huge climbs and 85k later and we happily reached Orbost, the most fantastically country town I may have ever visited. Strangely, I think this day was probably my favourite of the trip. Probably because of the sense of pride after completing it.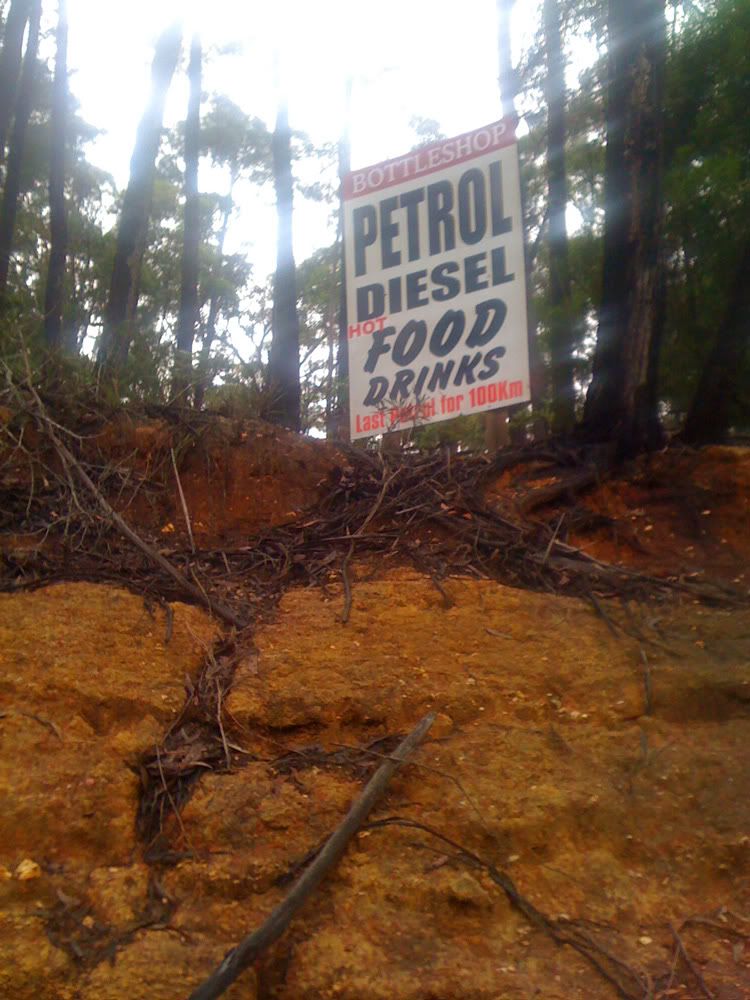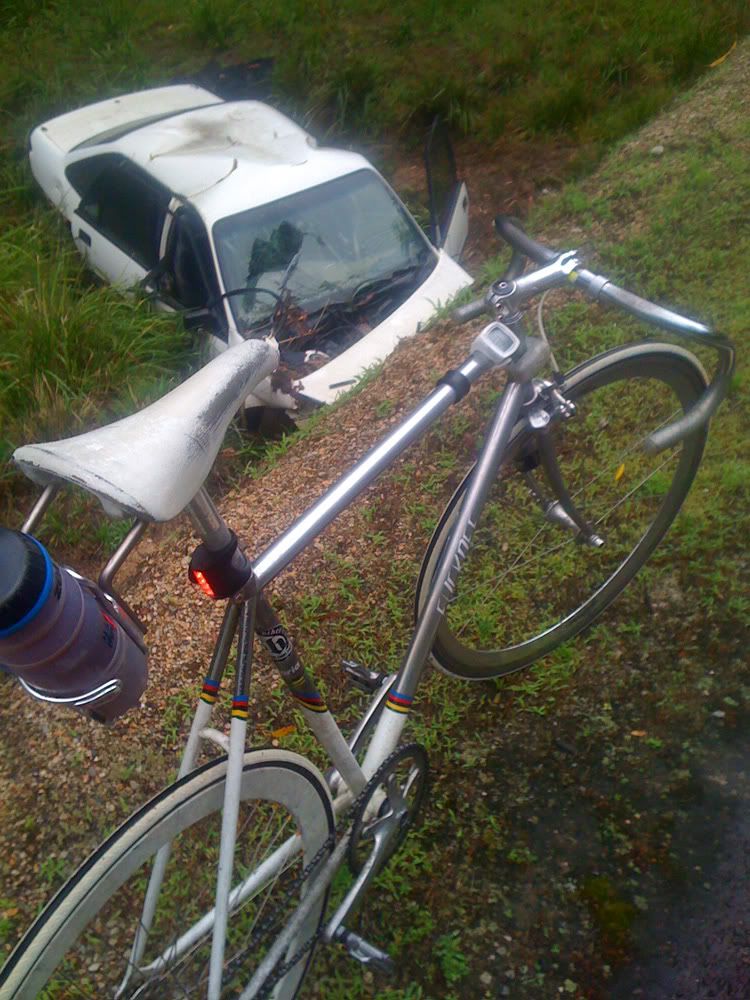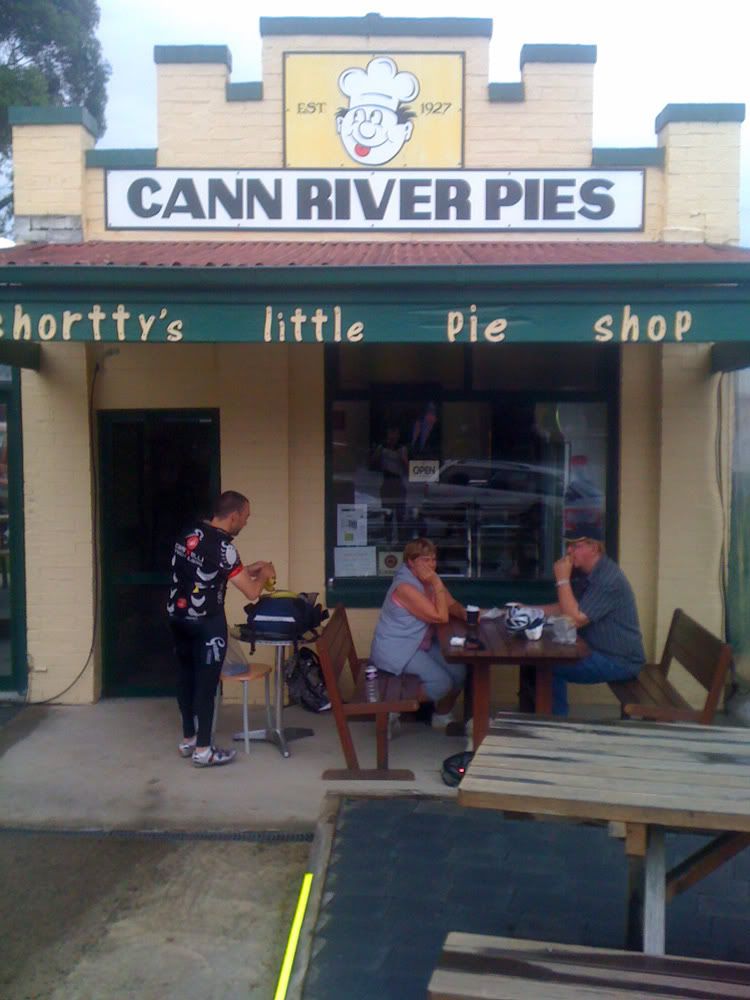 The following day we were forecast to hit The Honeysuckles, but had made the decision to fuck all that noise and instead start making a beeline for Melbourne, so had Traralgon in our sights. This day was possibly the biggest hurdle for me to overcome mentally, as between Orbost and Lakes Entrance my left knee became rapidly worse, and was beginning to make a very loud cracking noise every 3-4 pedal strokes. More than being rather painful and uncomfortable, the noise was destroying my mental state. After a bit of lunch I walked as a broken man into a chemist and was sold some double-strength Voltaren tablets which I'd been wanting to avoid. Dosed to the eyeballs we rode on. We hit Bairnsdale and on recommendation from a local took a back-road from there into Sale. Second-most boring 70 kilometers I've ever ridden in my life.
With lightning snaking down to the farmland around us and the biggest blackest clouds I ever did see above, we rolled into a KFC in Sale and literally a minute later, the heavens opened upon us. Countless times I tried to take photos of the rain to show how heavy it was a countless times I failed. We downed some disgusting dirty bird and waited for a break in the rain, and as soon as it let-up we got on the bikes and rode hard into a setting sun to hit Rosedale where we called it a day. A 204.87km day.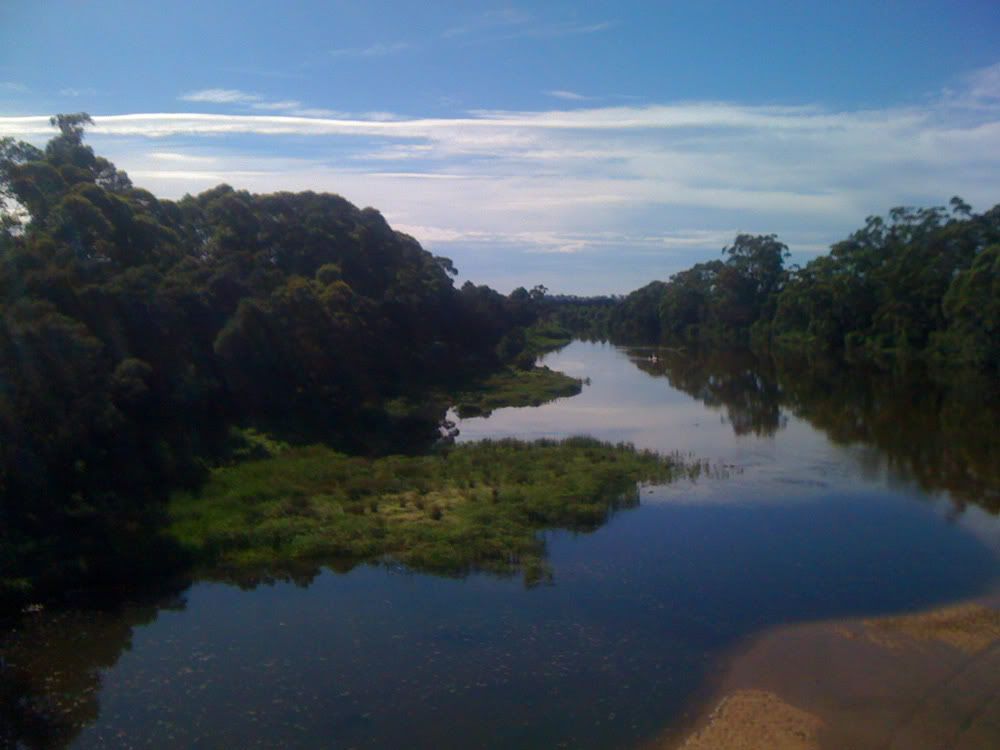 On Saturday, our seventh day, we were determined to make it home. Up at 5:30am we started riding shortly after 6 along the Princes Highway, having it turn into the Princes Freeway not long after Traralgon. I honestly don't really want to write very much about Saturday. Partly because there isn't much too write and partly because it was awful.
Dan
had warned me that it was a shit way to get back into Melbourne, and in my desperation to get home I ignored his warning. With the weather continuing to taunt us by turning from torrential rain to a cloudless 31° day with a moderate but annoying headwind, we had 130kms to ride on that fucking awful freeway until we could get off it at Pakenham to take a longer but slightly less tedious route back into the city. Easily the worst 130ks I've ever had to ride. But, we did it, and when we finally saw the roundabout at Mordialloc I'd all but forgotten about what had preceded and elation took over. We cruised along the waterfront into the city and ended the ride on 212.18ks to a waiting bunch of good friends at the Fox Hotel for hard-earned pints and a parma courtesy of Jay.
A big thanks to Benzy for sticking with me and completing the trip, my five fallen friends who made the first 3 miserable days tolerable, wifey for looking after the kid for a week,
Chaz
at mission control for vital stats, and anyone else who helped along the way. Few more photos and what-not will pop up in the next few days.
I never want to see another fucking banana in my life.